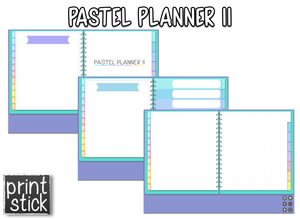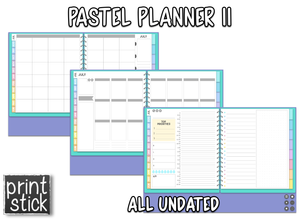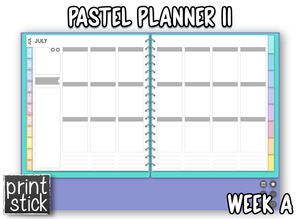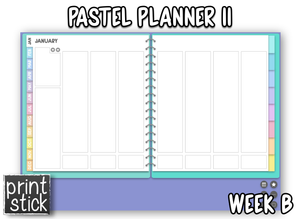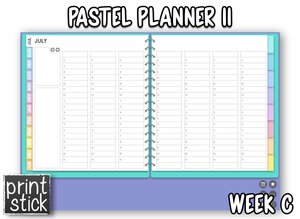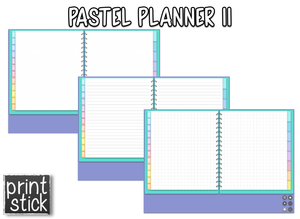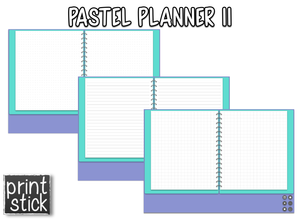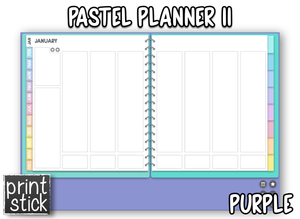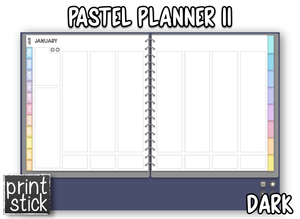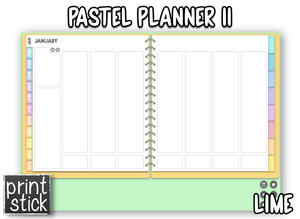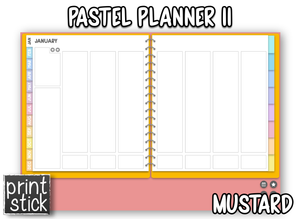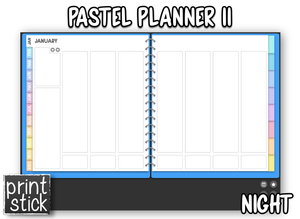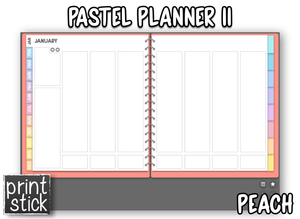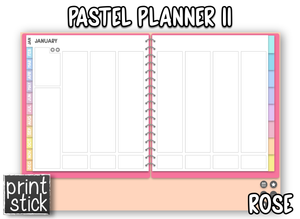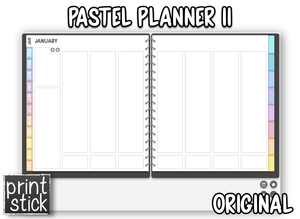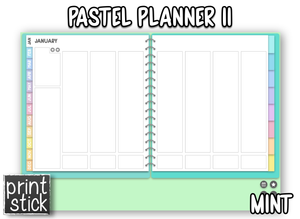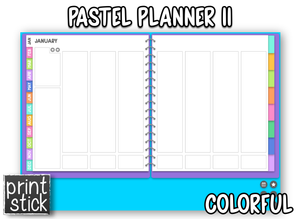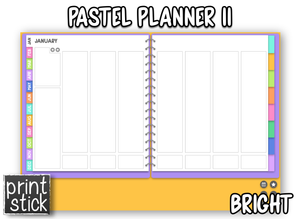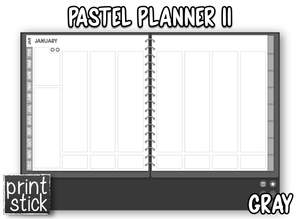 Pastel Planner II
Use the dropdown menu to select the version you want. 
Bundle up and save!
Don't forget to add a copy of the Pastel Planner Guide to your order (it's free!)
COVERS - Don't forget to add the Covers to your order 

WHAT'S NEW
-Now including daily pages! Each single day of the year is linked to the monthly & weekly views, and they all have their own daily spread!
-Arrows have been adding to monthly, weekly and daily spreads for smoother navigation
-Box Index: Besides the regular index, a brand new 'Box Index' has been added. This one comes with 40 linked, all-blank pages
-3 Different weekly layouts to choose from
-Months can run from January to December OR July to June
-14 Color options to choose from

BEFORE YOU BUY: Download our free PASTEL PLANNER II SAMPLE to test and make sure that your device & software are compatible and that the product will satisfy your needs. This shop sells digital products only and will never ship anything physical. 
GIVEN THE DIGITAL NATURE WE ARE UNABLE TO OFFER REFUNDS
Please provide a good email address at checkout since the download links will be sent there only.

------------------------------------------
This digital planner comes in PDF format. Please note that although PrintStick's products can be used in multiple PDF annotation apps, we can only offer support to GoodNotes users.
------------------------------------------
Check out Print Stick's YOUTUBE CHANNEL for tips and tutorials 
------------------------------------------

*Remember this item is for PERSONAL USE only. 
It is strictly forbidden to redistribute or use for commercial use.
Join our FB GROUP for exclusive info and support 
Happy DigiPlanning!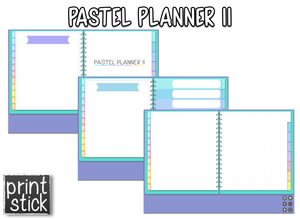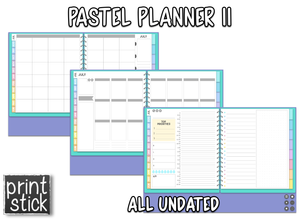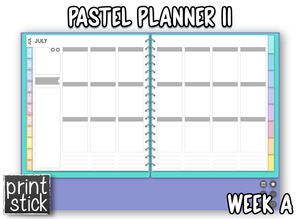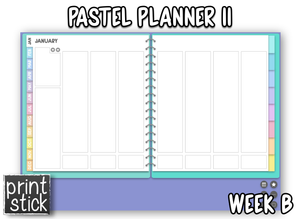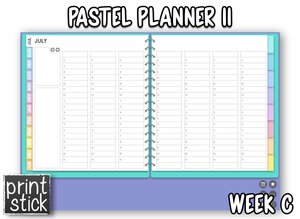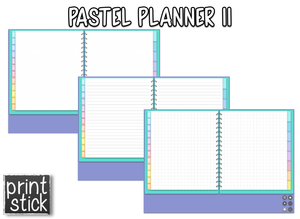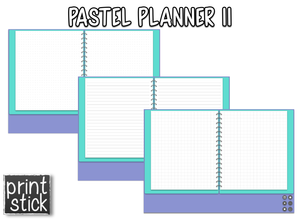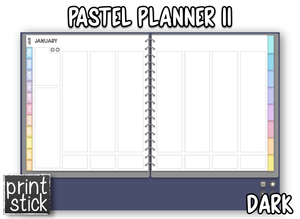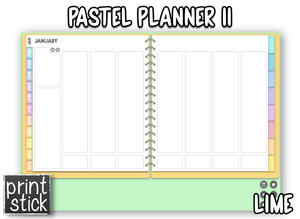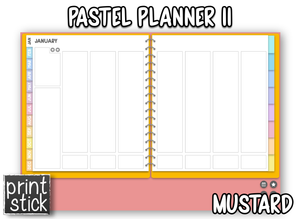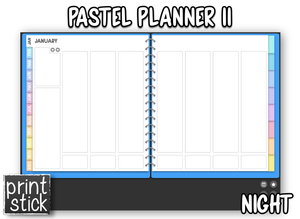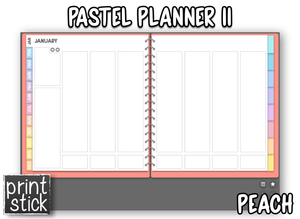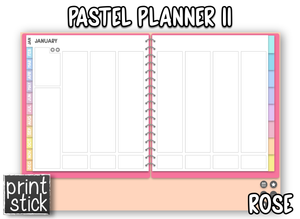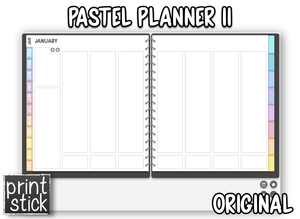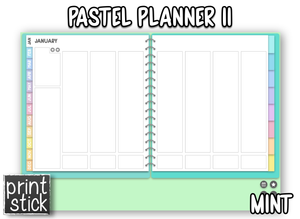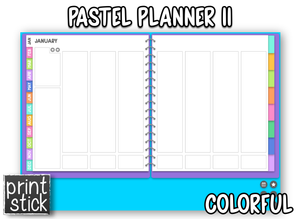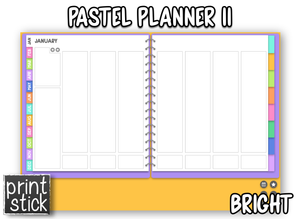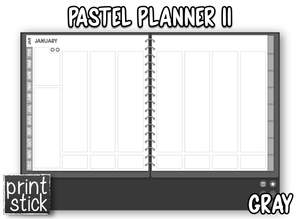 Pastel planner
I like the style of the Pastel Planner and it is working for me so far. Somehow I didn't notice that the one I bought was undated. That's been a challenge for this first-time digital planner.
Perfect!!
I appreciate that there are so many pages for me to use throughout the year, and years to come!!
AWESOME!!
I love this planner and everything about it!! The dailies are linked and so are the weeklies!! Perfect planner!!
Awsome
I couldn't help my self, when I saw this beautiful planner - even though I had the Pro Planner allready...🙃😉 Just love it, the colors, the "setup" and the possibilities...👏🏾💞👏🏾💞
Pastel planner
The planners just keep getting better and better! Keep up the wonderful work Isa!!