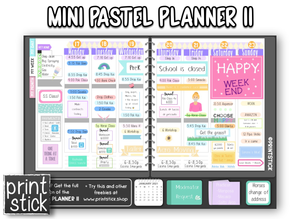 FREE 𝗗𝗶𝗴𝗶𝘁𝗮𝗹 𝗣𝗹𝗮𝗻𝗻𝗲𝗿 - Pastel Planner II mini planner
𝗙𝗥𝗘𝗘 𝗦𝗔𝗠𝗣𝗟𝗘
Test the Pastel Planner II's monthly, weekly + daily spreads with this mini version!

Want to learn more? Check out the full Pastel Planner II Demo Video

Love this? Get the full version of the Pastel Planner II here

This planner works best with the the iPad and the Apple Pencil but it may be used with any stylus and any tablet, computer or mobile device that has a note taking app that supports links, such as GoodNotes installed. 
See all planner options available here

Check out Print Stick's YouTube channel for tips and tutorials 
--------------------------------
*Remember this item is for PERSONAL USE only. You are not allowed to redistribute or use for commercial use. 

Join our FB group for exclusive freebies and support 

Happy DigiPlanning!
I'm enjoying filling this up daily.
FREE 𝗗𝗶𝗴𝗶𝘁𝗮𝗹 𝗣𝗹𝗮𝗻𝗻𝗲𝗿 - Pastel Planner II mini planner