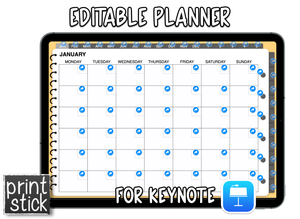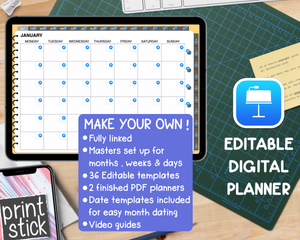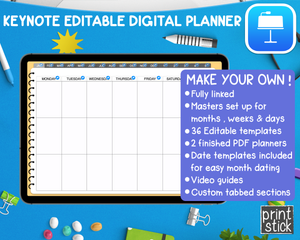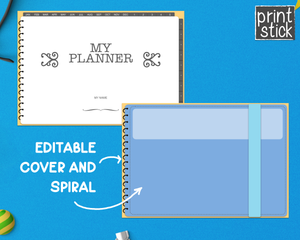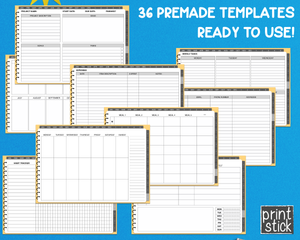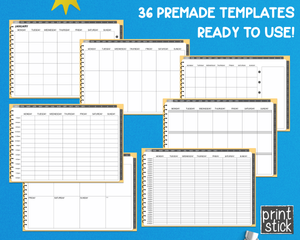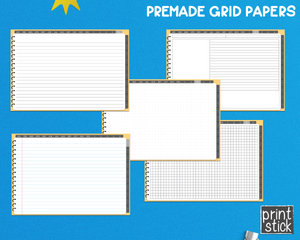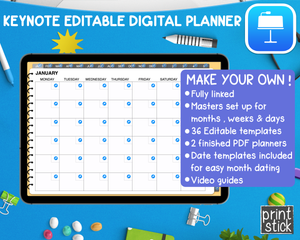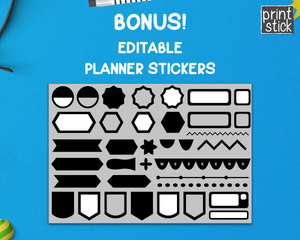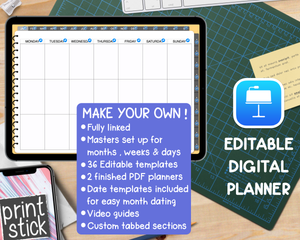 Editable Digital Planner - for Keynote
Editable iPad Digital Planner - for Keynote - Export and use in GoodNotes, Notability, Noteshelf, ZoomNotes, etc
DEMO VIDEO

This planner can be edited using the free app Keynote for Apple devices.

Features of the Keynote editable template:
-2 versions included: one with linked weeks + months and another with linked weeks + months + days
-Fully linked
-Masters all set up for months, weeks and days - customize in just a few minutes!
-15 extra custom tabbed & linked sections
-'Selected tabs' to know which page is selected in the planner
-36 extra editable templates
-Date templates included for quick & easy month dating
-Comes with 27 pre linked tabs and thousands of working links already added on all 605 pages (101 on the non-daily version)
-Planner comes with proposed monthly, weekly & daily spread layouts, but you can customize these!
-Each month has links to its weeks and daily spreads
-Some of the alternate spreads included are: Finance, meal planner, workout, year at a glance, habit tracker, address book, alternate weekly layouts, grid papers and more!
-Horizontal layout to maximize working/planning area.
-Editable spiral

Included in the download:
-Ready to use, undated PDF planner with linked months and weeks -Send straight to your favorite note-taking app and start planning! (101 pages)
-Ready to use, undated PDF planner with linked months, weeks and days -Send straight to your favorite note-taking app and start planning! (605 pages) - link to download from dropbox
-Access to future updates & upgrades for this planner for free
-Access to the current yearly calendar
-A one-time 40% off coupon to purchase anything at www.PrintStick.Shop
-Video guide to learn how to edit and create your dream planner

BEFORE YOU BUY: Please watch the tutorial videos offered so you get to see exactly what is included and how to use the product.
*Make sure that your device & software are compatible and that the product will satisfy your needs.
*This product can be edited in the free app Keynote ONLY
*This shop sells digital products only and will never ship anything physical. 
GIVEN THE DIGITAL NATURE WE ARE UNABLE TO OFFER REFUNDS
Please provide a good email address at checkout since the download links will be sent there only.

------------------------------------------
Check out Print Stick's YOUTUBE CHANNEL for tips and tutorials 
------------------------------------------

*Remember this item is for PERSONAL USE only. 
It is strictly forbidden to redistribute or use for commercial use. - If you'd like to sell or share in any way the planner you create using this template, please get in touch with us to buy a commercial license.
Join our FB GROUP for exclusive info and support 
Happy DigiPlanning!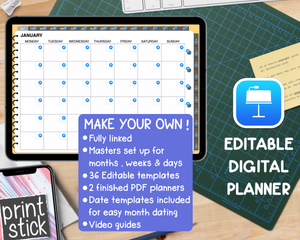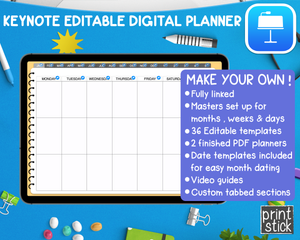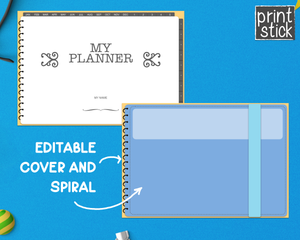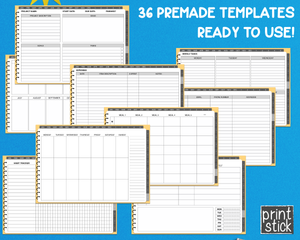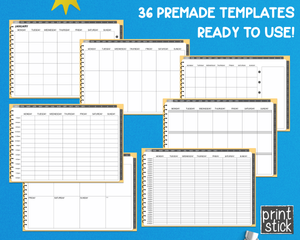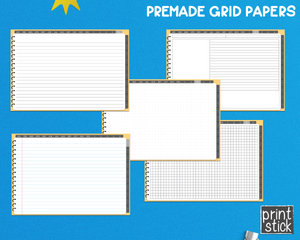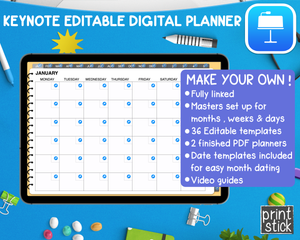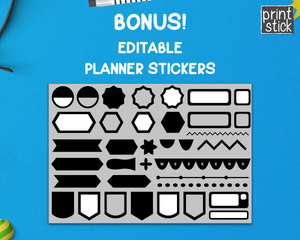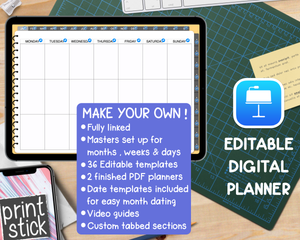 Great !
Very satisfied with this planner. I haven't finished it yet, I'm taking the time to put everything I need into it. I am improving my skills in the use of keynote. Very good introduction before starting to make my own planner.
Editable Digital Planner
I finally believe I found the perfect planner for me now. I just brought it yesterday and I have been watching your video on it. I'm really happy with what I'm seeing . The whole planner look very professional. I'm learning a lot about making planners. I plan on doing your course on SkillShare next week. Also your templates are well done. By watching your video I now have a few ideas on how I want to set mines up. So thanks for making a great Editable planner. looking forward to your next video. Kudos to you.