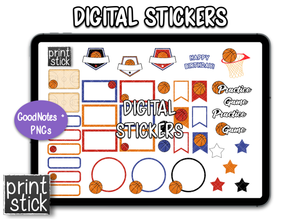 SS Basketball Digital Planner Stickers
Digital Planner Stickers for GoodNotes - Pre-cropped and ready to use! 

You also have the option to download a .zip folder with all the elements saved as individual transparent PNG files. You can use the free app 'iZip' to decompress and save to camera roll on the iPad. More info on how to use digital stickers outside of GoodNotes here: 
https://www.youtube.com/watch?v=YCTcuC8to8M&t

*Please remember this item is for PERSONAL USE ONLY - Do not share

Enjoy!
PrintStick
Basketball on Fire!!
I love these stickers - got everything practice, game and even just basketballs to mark in my monthly calendar! And like everything Isa does the detail is awesome!!!
Gorgeous!
Just what I needed! These will be REALLY useful, and they LOOK great! I will be using them A LOT. Thank you SO much!