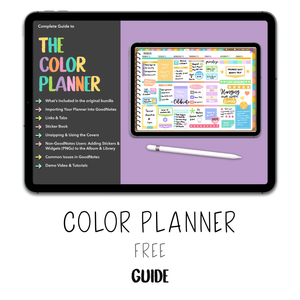 𝘍𝘙𝘌𝘌 𝗚𝘂𝗶𝗱𝗲 - Color Planner
𝘚𝘶𝘱𝘱𝘰𝘳𝘵 𝘍𝘪𝘭𝘦
𝗙𝗥𝗘𝗘
Full PDF guide of the Color Planner
Feel free to download before purchasing to learn what's included and how everything works. 
Full Color Planner Demo Video

Our planners work best with the the iPad and the Apple Pencil but may be used with any stylus and any tablet, computer or mobile device that has a note taking app that supports links, such as GoodNotes installed. 

Ready to buy a planner? See all the options available here

Check out Print Stick's YouTube channel for tips and tutorials 

--------------------------------
*Remember this item is for PERSONAL USE only. You are not allowed to redistribute or use for commercial use. 

Join our FB group for exclusive freebies and support 

Happy DigiPlanning!
Great preview
Having the free sample helps so much to figure out if the product will work for your needs. I really appreciate this company being so helpful!
Guide
Didn't read the title correctly. But that's ok. I'm sure the guide can help someone.
𝘍𝘙𝘌𝘌 𝗚𝘂𝗶𝗱𝗲 - Color Planner
Excellent
So nice that you can try before you buy. Love the planners