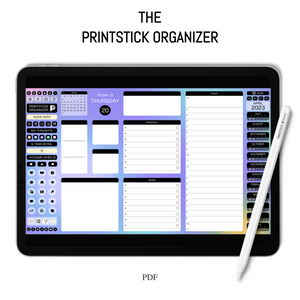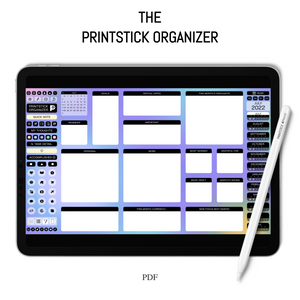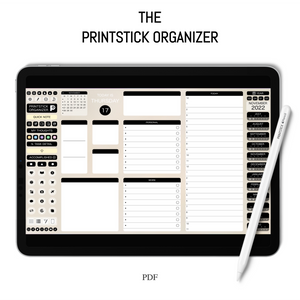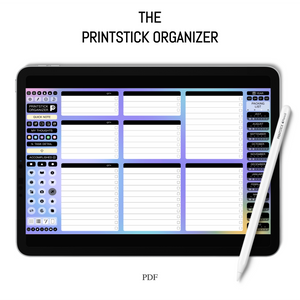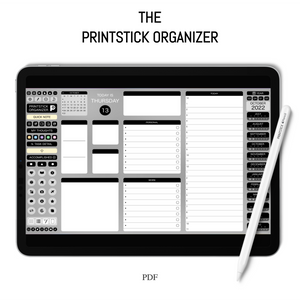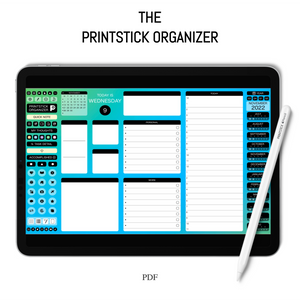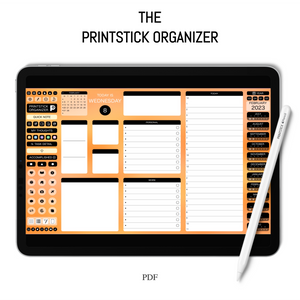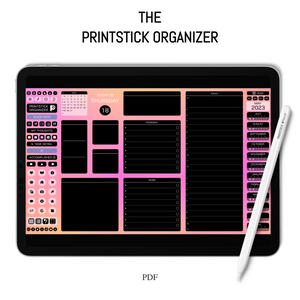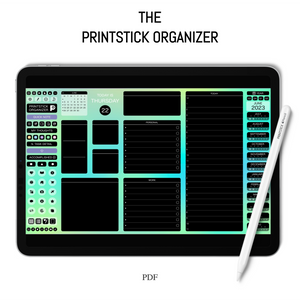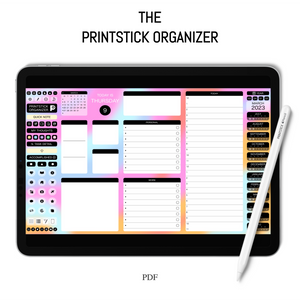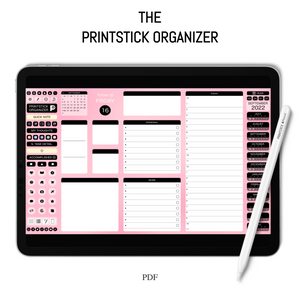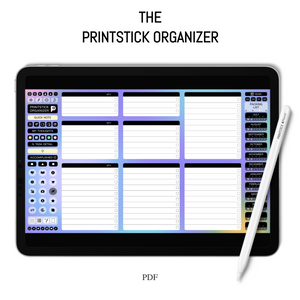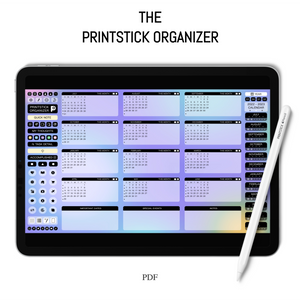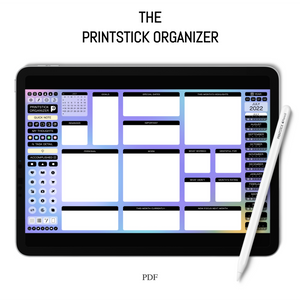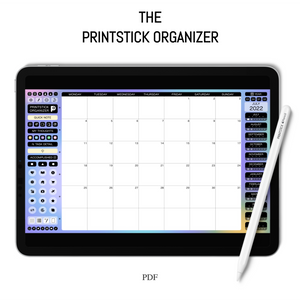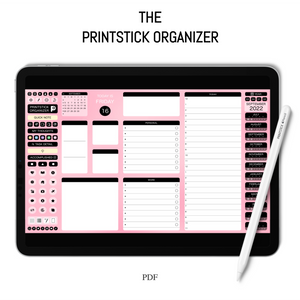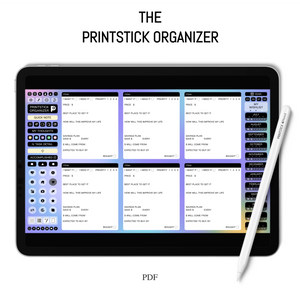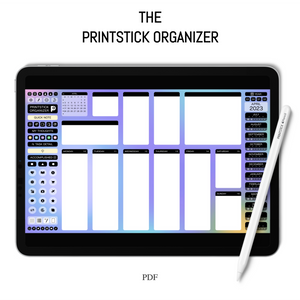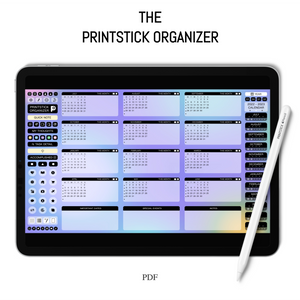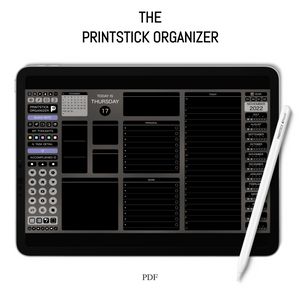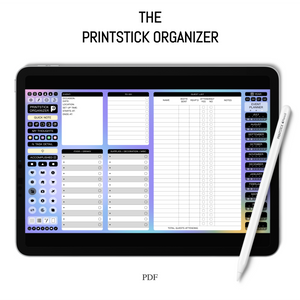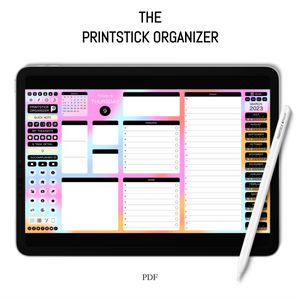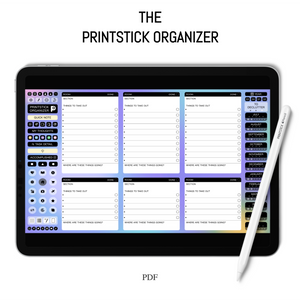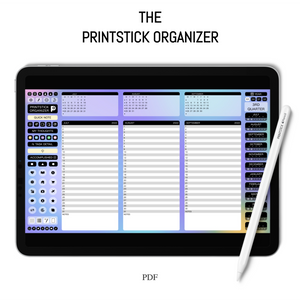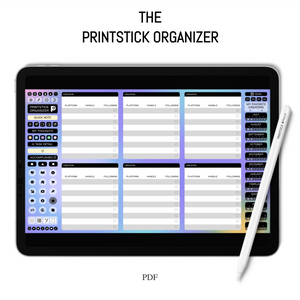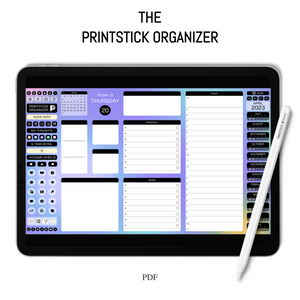 The new PrintStick Organizer is here! Please select the desired version from the drop-down menu *Hybrid means Sunday start months & Monday start weeks
DEMO
*Rainbow color means that the background color of the pages change throughout the PSO! 

What's included with your purchase:
-Instant access to the PrintStick Organizer
More than 800 slides to organize all aspects of life!
You will also get access to:
-The PSO Library with bonus items that will help you customize and improve your experience using the PSO - Updated regularly
-Videos and tutorials with the best tips and tricks on how to use the PSO

These are only some of the included pages and features:
-Multiple indexes and sections to categorize and organize all thoughts & ideas
-Notebook: 20 sections with 10 blank pages, and 10 transparent pages to build your own spreads!
-Key pages are made to fit both the iPad as well as your phone 💗
-Includes a fully linked planner. Quickly access any day, week and month from any page in the planner
-Each month comes with 2 different calendar views + 5 customizable sections
-Daily entries section: journal, keep track of work notes, business performance or anything else you want with this super easy to use section : 1 box per day of the year, 6 days per page
-40 extra inserts that will help you organize all aspects of life
... and so, so much more!

BEFORE YOU BUY: Get one of our free samples to test and make sure that your device & program are compatible. This shop will never ship anything physical. 
GIVEN THE NATURE OF OUR PRODUCTS WE ARE UNABLE TO OFFER REFUNDS


Check out Print Stick's YOUTUBE CHANNEL for tips and tutorials 

------------------------------------------
Please note that although PrintStick's products can be used in multiple annotation apps, we can only offer support to GoodNotes users.
------------------------------------------
PERSONAL USE only. 
It is strictly forbidden to redistribute or use for commercial use.
------------------------------------------
Join the PrintStick Community and our FB GROUP for exclusive info and support 

Happy DigiPlanning!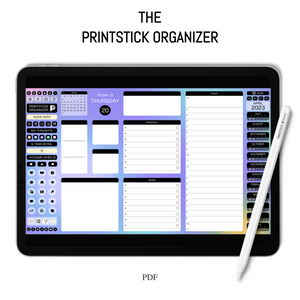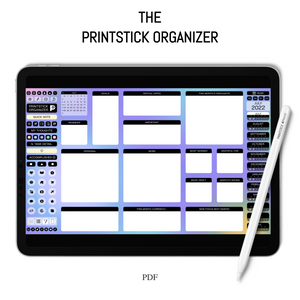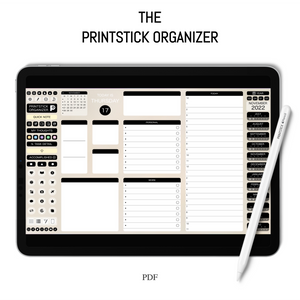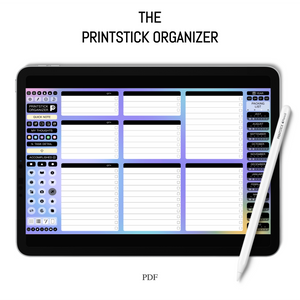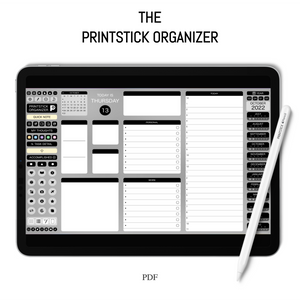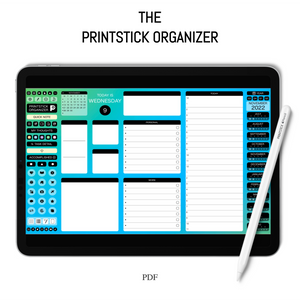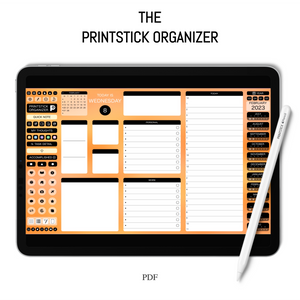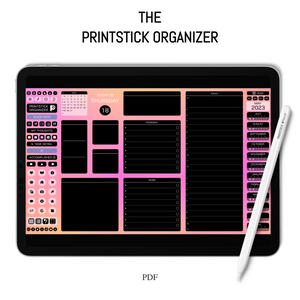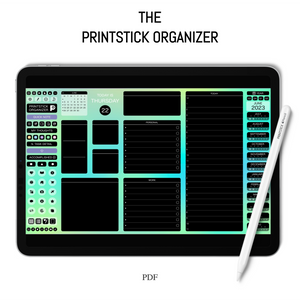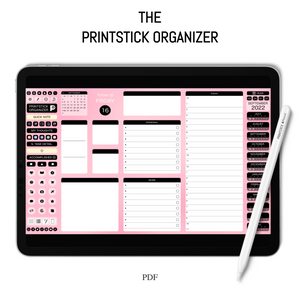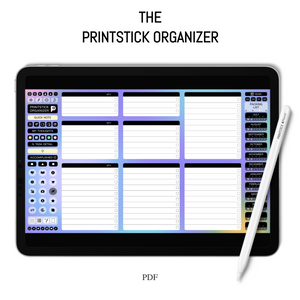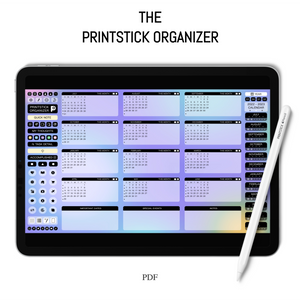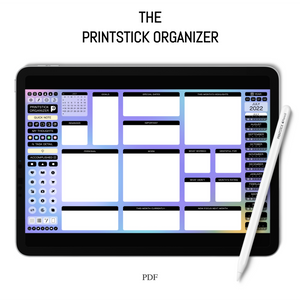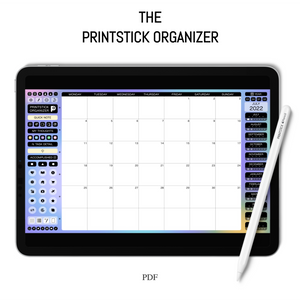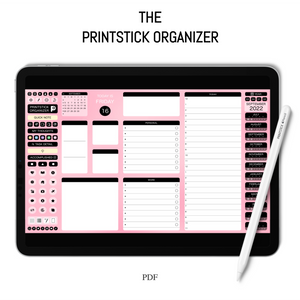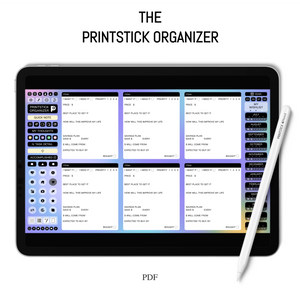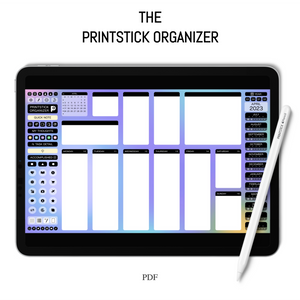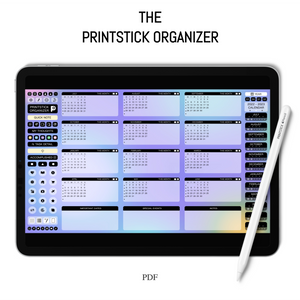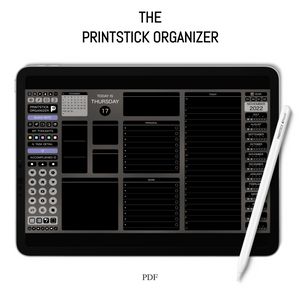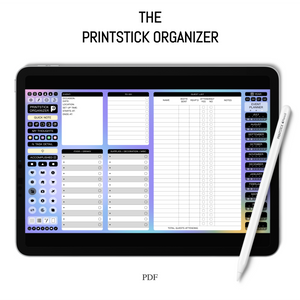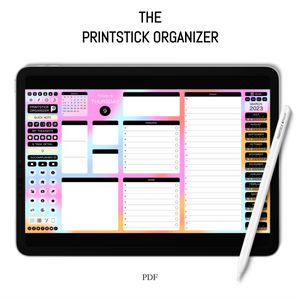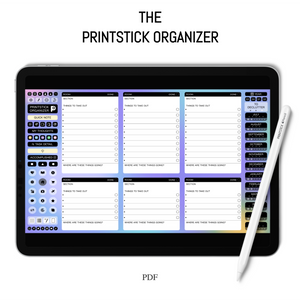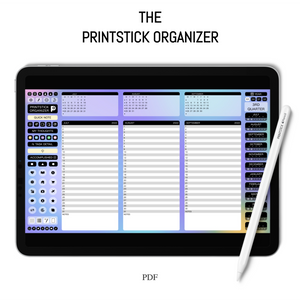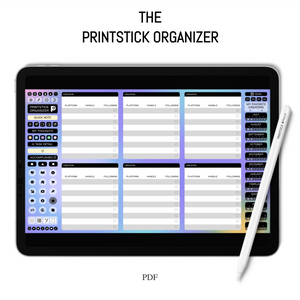 👑 👑❤️QUENN OF DIGITAL PLANNER 👑👑👑
💐💐💐🥳🥳🥳THE
🤩💫🌟BEST❤️❤️❤️💕💕💕⭐️
📅💌DP of the 🌍🗺️🚀
Nachricht:Dear Isa, I have never seen such a wonderful planner.
Many thanks for this heart of your work.
This planner is perfectly thought out from start to finish. It has all needs, all wishes, everything you can imagine, and above all the most ingenious: it combines planner, bujo, dashplanner, deskplaner, desktop, chalkboard and moodboard. in one.
And you conceived and published the planner two years ago. There is so much innovation in this planner. You are the Elon Musk of digital planners, so to speak.
Actually, you should patent the planner.
I've been working with DP for two years and haven't even seen the beginnings of it in your colleagues.
I would pay triple the price for this planner in a heartbeat. 36 euros does not do justice to this product.
Thank you for sweetening the start of the new year for me.
YOU CAN BE PROUD OF YOURSELF! You combined perfection with love, beauty and wisdom and implemented it outstandingly.
I wish you only the best!
Kristina (Teacher) from Germany
This planner has everything!
I love that every section is accessible from every page. I'm still working out how to use a couple of section, but overall between the introductory page and index it's really easy to navigate! I especially like that this planner has so much working space. I really use mine heavily and can't devote too much room to decorating or I lose sight of what needs to get done. Having two calendars for each month is great for busy moms or tracking for a side hustle. I just learned there are 5 additional pages to each month vision board style that can be used however you like. Looking forward to productive and organized 2023!
Perfect!!!!
I'm not sure how to say it even more than just simply perfect. I have spent so much on digital planners and end up not happy. They were too simple, too much, and I would get frustrated. Well, the PSO is amazing and is perfect and I finally have planner peace. I can create additional calendars and love being able to create my planner space. Highly recommend!!!